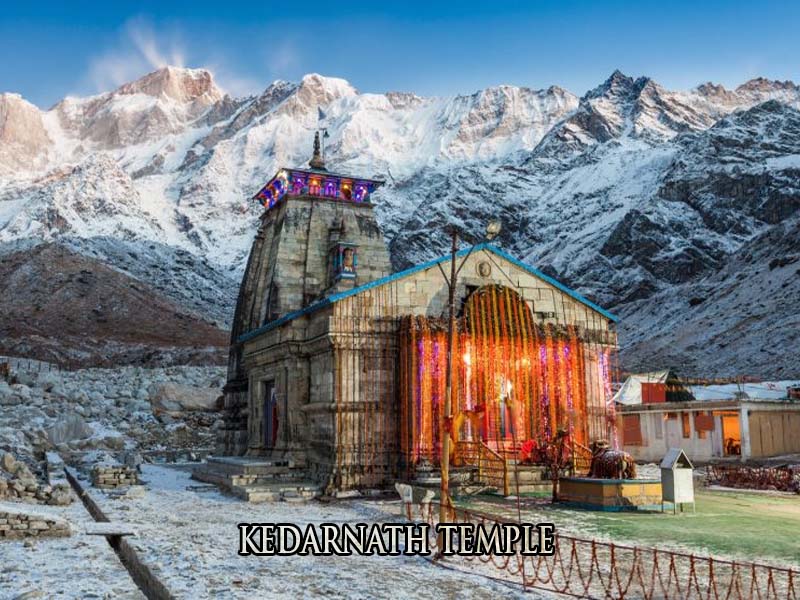 How to Reach Kedarnath Dham
How to Reach Kedarnath Dham is a general question comes in every person mind. Kedarnath Dham is at height of 11,750 feet. Also devotees have to trek for 17 Kms one side to reach kedarnath temple. It is a tough trek. And high altitude makes it more tougher. So Most of pilgrims are confuse about How to Reach Kedarnath Dham. Kedarnath is reachable by Trek from Gaurikund. Also one can hire Pony and Palki from Gaurikund. Helicopter services is also available for kedarnath from Guptkashi/Phata. In addision Helicopter service is available from Dehradun. In India where 36 Koti Devi and Devatas reside. Kedarnath Dham is in the state of Uttarakhand. It's one of the Char Dham and also one of the 12 Jyotirlinga of Lord Shiva.

All knows the fact that Shiva is the lord of all lords. And therefore, for those who have belief in Shiva, the Kedarnath is must visit e place with utmost importance and highly auspicious. This is journey for salvation for you. Also the purification of your mind, body, heart and soul take place here. This place offers you a lot of opportunities to enjoy the most challenging and typical trekking. And therefore all those adventure seekers who like doing the Trekking like to visit this place. The holy Kedarnath is in the Rudraprayag district of Uttarakhand and is at the height of 3583 m from the ground.
History of Kedarnath temple
As per belief, this holy place belongs to the Mahabharata Period. The Pandavas build Kedarnath temple. But, Latter Adi Guru Sankaracharya reconstructed it. After Killing their cousin brothers in Mahabharata Pandavas were feeling very guilty and therefore in order to get the forgiveness for their evil deed. For same they were looking for Lord Shiva. But Shiva was disappointed with them and therefore, he hide by converting himself into the form of a bull. But One of the Pandavas "Bhim" recognize him and at the same time, Shiva started getting the Bhoomi Samaadhi. Seeing this bhim tried to pull the bull out and in the process, the hump of Shiva left above the earth. Latter this hump got converted into Shiva Linga. It is also one of the Panch Kedar.
Kedarnath The Adobe of Lord Shiva
Every year thousands of devotees visit this holy Kedarnath to wash off their sins. Also to feel the beauty of divine power and spirituality. Some of the major attractions of this place are Mandakini River floating nearby, the most auspicious Gauri Kund, Chorabari Tal, Vasuki Tal, Bhairav Temple. Including the holy Kedarnath temple, all these places have very great religious and historical importance along with having wonderful natural beauty. Bathing in the Gauri Kund does not only washes your body, but it also flushes out all your sins. It is said about the Gaurikund that the water of this Kund is so pure that it appears like that of a mirror, and you can clearly see the bottom from the top.
As per belief, from the Bhairavnath temple situated nearby, Baba Bhairav Nath Guards the Kedarnath temple all the time, and especially during the winter season. The highest-ranked priest in the temple is Raval (One of the priest communities that belongs to Kerala. However, they do not perform the Puja, but they instruct other priests that how and when to perform the puja. There's another historical and religious story associated with this place, according to which, Shiva got settled there in Kedarnath after being happy with Deep Penance of Nar and Narayana.
Best Time to Visit the Kedarnath
Due to the harsh climatic conditions, the holy Kedarnath remains open only for six months every year. If you are planning to visit the Kedarnath temple then May to June and September to October are very best duration to visit at this place. From November to April, this place faces heavy Snowfall along with Sub Zero temperature. So temple is not open for this period.Also from July to August rainfall but this is also month of sravan. So devoties love to visit Kedrantah.
Things to do for Kedarnath visit?
To get to the Kedarnath, you must have the proper planning before, that what to carry with you, and when and how to go. Let's see what you need to carry with you.
You must have the valid Id proof such as Voter Card, Pan Card, or Passport.
Biometric Registration is must. You may do so either online or offline. It will cost you just around 5 to 10 INR. To get the Online Registration done you need this visit to the official website of Uttarakhand Tourism Development Board.
You should be medically fit to complete this holy tour.
Considering the weather condition there, you must carry the things mentioned below.
Warm Clothes.
Mountaineering Shoes.
Rain Coat and Woolen Cap.
Two Pair of Shocks.
Sun Glasses.
A few medicines such as Pain-relieving medicines, medicines for loose motion and indigestion problems and so on.
Suggestion
If you want to go visit the Kedarnath Dham and don't want to face any trouble during the tour. So it's better to book a Yatra Package from any trustworthy travel agency such as Global Connect Hospitality that provides the travel packages at a comparatively cheaper cost, and takes care of all comforts. They Offer you "Kedarnath Yatra by Helicopter" and "Kedarnath Yatra by Road". They offer you the best customized Kedarnath Dham Yatra Package as per your preferred Pickup and Drop location, write us an email at: info@thechardhamyatra.com for more details.
For Mahaabhishek booking vist devstham board.