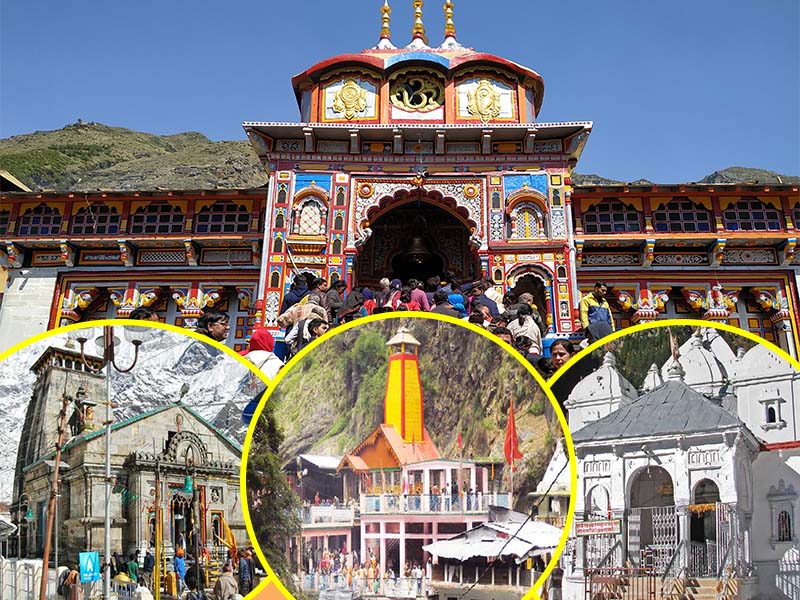 Important Travel Tips for Chardham Yatra
"Important Tavel Tips for Chardham Yatra" is very helpfull to plan properly. As per belief in Hinduism, after the completion of all your responsibilities, you must have a visit to the Chardham. However, it's not compulsory as per our sculptures and you may do the Chardham yatra at any age. But, before you make the decision to have the Chardham tour, you must know some Travel Tips for Chardham that you must follow to make your travel more comfortable. God never asks you to bear the pain, and as a father, he just wants some true devotion from you. So, rather than bearing the pain, and taking your life to the risk in the absence of proper information, you should know and follow some of the basic tips given here. Therefore, this way, you may avoid health issues and various other issues. So follow important travel tips for Chardham Yatra.
Chardham Yatra Travel tips
Best Month for your Chardham Trip
The very best time to have the Chardham tour is the summer season. The month of May and June is highly preferred. It's the time having pleasant weather and no risk of any natural disasters. The Monsoon season that lies between the month of July and August is the riskiest season to have this tour. With having the high risk of landslides and road blockages, there's a huge life risk during this season. Therefore, you should avoid this season to have the Chardham tour.
However, in the months of September to October when the weather starts getting colder, there is no that much risk of natural disasters though, but the weather conditions become very pathetic during these months. Therefore, if you planning the tour with these months' period, then you should carry some warm clothes with you. Also, your body should be able to bear the cold. Some of the people who visit the Chardham during the cold season, end up with falling ill for a week or more.
Make your body fit
Visiting the Chardham simply means you are about to do lots of trekking. Also, since you will have to travel to the high altitudes, and therefore, your body should have the efficiency to adapt the environmental conditions at such a higher altitude. At higher altitudes are having a lack of oxygen, and that may take you to some serious problem. Therefore, at least from 6 to 7 months before the date of journey, you should start doing some exercises. Such as
Doing the daily morning walk for at least 60 minutes to 120 minutes. Doing the Pranayamas such as Anulom Vilom, and Kumbhaka. You should consult the doctor on a regular basis so as to have the proper routine body checkup.
Traveling alone Vs Yatra with Partners of family
Any of the traveling experience may only be joyful if you have the company with you. It may either be your friends or it may be your family members. When it comes to doing the Tirath Yaatra such as the Chardham Yatra, where you have to do lots of walking on foot, it becomes highly compulsory to have the company. The conditions there may break your confidence if traveling alone and as a result, you may not be able to complete your journey, or you may fall ill or both.
Prepare for Emergency
In case of emergency, you should have the emergency contact numbers saved in your mobile so that you may get the required help on time.
Avoid carrying any heavy load.
Trekking to the Chardham along with overloaded luggage may make your travel more troublesome. Therefore, try to carry less amount of goods with you as much as you can. But, it does never mean that not to carry the essential goods.
Proper Cash Availability
You should have the proper amount of cash with you, and you should make the proper budget for each of your expenditures. Otherwise, you may face the issue like "Short of Cash".
Wearing comfortable clothes
Not all clothes may suit you better to have Chardham tourism. Wearing uncomfortable clothes may ruin your enjoyment of the Chardham tour. For women, wearing saree should be avoided. Salwar Kameez or the comfortable tousers may be the best options. Also, the good quality of socks and shoes is required. Man can wear whatever they may feel comfortable with, but they value the holiness of the Chardham before making the decision what to wear.
Also, clothes suitable for the weather conditions should be carried on.
Avoid the last-minute booking
If you book your Chardham package in advance, and during the proper months before the date of journey, you don't only save a lot of money only, but also you get best hotels, transportation services, and all other services at affordable. Booking at the very last time may not guarantee you the same level of comforts.
Carry the First Aid Kit and basic Medical equipment with you
For minor medical emergencies, you should carry the First Aid box with you that should have all required and basic medicines and equipment available. Also, if you are a Diabetic patient, or suffering from low or high blood pressure, you should carry the testing equipment and enough amount of medicines with you, and also you may require to have the medical approval. You should have enough medicine if you are suffering from any disease. For the Asthma Patients, it's better to avoid the tour. But, if you want to have once, then proper medical approval is required.
Eat Healthy and Hygienic food
To avoid any possible health issues, you should avoid eating the oily foods items and all such food items that may harm your health. Take Healthy and Hygienic food.
For Special Pooja Booking can be done from Devsthanam board Website.
More Information about Badrinath Kedarnath