Journey of Chardham: A Journey for Moksha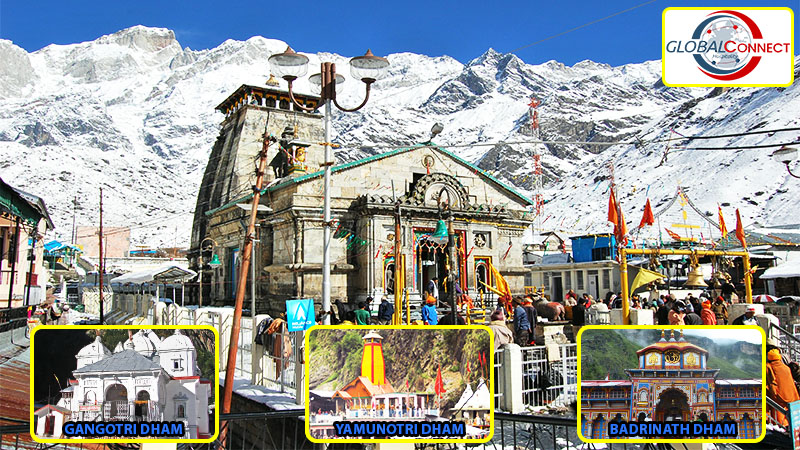 India known as the land of Devi's and Devata's (Goddesses and Gods). Full of rich Hindu mythology, India has various pilgrimages places spread across all over India. Amongst these pilgrimage places Char Dham Yatra 2023 holds a big spot.
located in the peaks of Himalayas in Uttarakhand of India, Char Dham yatra 2023 of four holy places of Hindu Pilgrimage gives utmost inner satisfaction to all pilgrims. To sum up the four shrine Yamunotri, Gangotri, Kedarnath and Badrinath are the most sacred place in Hindu religion. It's believed that whosoever visits these holy shrines once in their lifetime, achieves salvation or Moksha.
Chardham of Uttarakhand is also popularly known as Chhota Char Dham Yatra.
Chardham yatra is the most famous pilgrimage place of India. The yatra of Shrine of Kedarnath, Badrinath, Gangotri and Yamunotri are all together called Chardham yatra or Chardham tour. During the tour of Chardham yatra, Devotee gets the chance to visit so many famous temple and places. Like 3 Divya desam of Vishnu, Panch Prayag (namely Dev Prayag, Karan Prayag, Nand Prayag, Rudraprayag and Vishnu Prayag), Omkareshwar temple of Ukhimath( Winter home of Kedarnath), Kashi Viswanath temple of Uttarkashi, Lakhamandal of Barkot, Vridha Badri, Yogdhyan Badri, Hanuman chatti, Raghunath Temple,Tungnath Temple, Haridwar,Rishikesh, and Many More. Even during Chardham Yatra Package 2023, one can visit beautiful and scenic places of Uttarakhand like Auli, Harsil, Mussoorie, Chopta and Valley of Flowers.
Every year huge numbers of devotees come from every corner of India and the world to participate in the Chardham Yatra of Uttrakhand. The Chardham Yatra starts with Darshan of Yamunotri then Gangotri, Kedarnath, and Badrinath respectively. For people, who have less time or some health-related issue or have some financial issues they split Chardham Yatra into two-part, that is Do-Dham Yatra. In Do-Dham Yatra they cover a combination of two shrine mainly Kedarnath and Badrinath yatra in one time and other time they visit Yamunotri and Gangotri.
The Main Chardham Or Original Char Dham's Of India.
The main Char Dham of India or original Chardham of India is established by Adi guru Shankaracharya in all corners of India to protect Hindu Religion. The original Chardham shrine is well described by the great Adi Shankaracharya as Badrinath, Dwarka, Puri, & Rameswaram. Also, it is located in four corners of India. In east Jagarnath Puri (Odisha), in West Dwarka (Gujarat), in north Badrinath (Uttarakhand), and in South Rameswaram (Tamil Nadu). The Char Dham Yatra is the most famous and holiest pilgrimage sites in India.
Convenient way to do Chardham Yatra Or Chardham Tour
Chardham tour or Do-Dham tour can be done in two ways. However, most of the pilgrim prefers Chardham yatra by road or Do-Dham yatra by road but some pilgrim prefers to take Chardham by helicopter or Do-Dham by helicopter.
Chardham tour by road 2023 Or Chardham Yatra By Road 2023
Chardham yatra by road is most common ways to perform Chardham yatra tour or Do- Dham yatra tour.  Normally  Chardham Yatra From Haridwar by road takes around 9- 10 days. Similarly Chardham yatra from Dehradun by road takes around 9- 10 days. Also Chardham Tour From Delhi by road takes around 11- 12 days. Chardham by road is easly doable from Haridwar or Delhi by Taxi, cab, bus . So many pilgrim book Chardham Package 2023 by travel agent, so that they can do this difficult yatra by convenient way. Normally Chardham package includes your transportation need, good quality hotel and helicopter services for Kedarnath, that means who so ever is taking Chardham yatra package they get all assistance to complete this yatra without any hassle. Generally dedicated tour operation manager communicates all the way during your Chardham tour for your convenient journey.
Chardham by Helicopter 2023
Chardham by helicopter and Do-Dham by helicopter is the easiest way and convenient way to the holy yatra. Do-Dham by helicopter and Chardham by Helicopter  is all inclusive plan and luxury plan. Chardham yatra by helicopter start with pick up from Dehradun airport. Do-Dham by helicopter and Chardham by helicopter is best plane for pilgrims who have less time due to their busy life schedule or not physically fit. Also Chardham tour by Helicopter have various plan starting from 2 day to 5days plan. Do Dham by Helicopter is  one day tour. Makes it very easy for pilgrim.
Some of Key feature and inclusion of Chardham by helicopter 2023 or Do-Dham by Helicopter 2023
VVIP Darshan at all temple.
All Flying by best helicopter.
Best hotel accommodation in each place with proper sanitised room.
All meals included along with snacks tea coffee.
Experienced pilot and crew.
Best ground handling team at each place.
Well sanitised Innova vehicle for local transfer.
Palki or Pony for Yamunotri temple.
Why Choose us ?
What makes us diffrent from other tour package companies